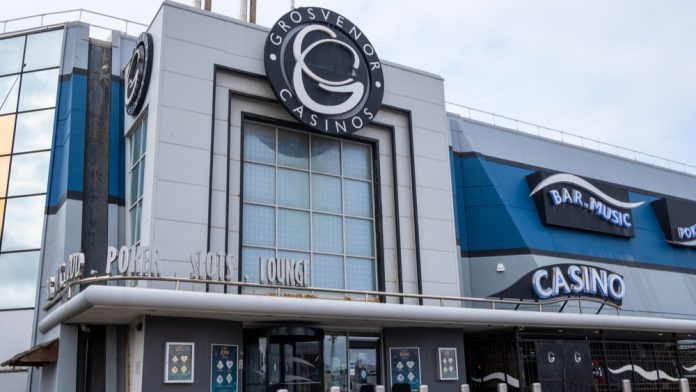 Kasino Grosvenor di London mungkin menghadapi penutupan selama akhir pekan mendatang setelah pekerja, yang merupakan anggota Unite, memberikan suara mayoritas untuk mengambil tindakan "untuk memenangkan upah yang adil".
Ini melihat sekitar 150 anggota staf, yang dikatakan sebagian besar bandar dan dealer tetapi juga termasuk staf menunggu dan dapur, di tujuh tempat mengambil tindakan.
Serikat pekerja mengatakan bahwa "tidak meningkatkan gaji bukanlah pilihan" setelah 91 persen mayoritas menolak pembayaran bonus sebesar £600 dan £800 sebagai "benar-benar tidak memadai di tengah krisis biaya hidup yang semakin parah". Unite menambahkan bahwa mereka sedang mencari tawaran bayaran yang mencerminkan biaya hidup yang melonjak
"Ini dia lagi: Kasino Grosvenor adalah perusahaan uang besar lainnya yang mengumpulkannya tetapi menolak untuk membayar pekerjanya dengan upah yang dapat mereka jalani," komentar Sharon Graham, sekretaris jenderal Unite.
"Itu tidak dapat diterima dan pemungutan suara besar untuk tindakan ini menggarisbawahi rasa marah di seluruh angkatan kerja ini. Anggota kami di Grosvenor Casinos akan mendapat dukungan penuh dari Unite dalam pertarungan ini untuk mendapatkan kesepakatan yang adil."
Pemogokan akan dimulai pukul 18:00 pada hari Jumat 9 September dan berlangsung hingga pukul 06:00 pada hari Senin 12 September, dan akan berdampak pada Grosvenor's The Victoria, The Rialto, The Gloucester, The Park Tower, The Golden Horseshoe, The St Giles dan The Barracuda tempat.
"Kasino Grosvenor perlu memahami bahwa tenaga kerja ini bersatu, dan lebih banyak pekerja bergabung dengan Unite setiap hari," tambah Dave Turnbull, pejabat nasional Unite untuk sektor perhotelan.
"London adalah salah satu kota termahal di dunia bagi para pekerja untuk bertahan hidup, itulah sebabnya pesan dari para anggota tidak dapat lebih jelas: Hanya kenaikan gaji yang cukup besar yang bisa dilakukan.
"Perekrutan kronis Grosvenor Casino dan masalah retensi membuktikan bahwa tingkat pembayaran saat ini tidak berkelanjutan. Tidak meningkatkan gaji bukanlah pilihan."