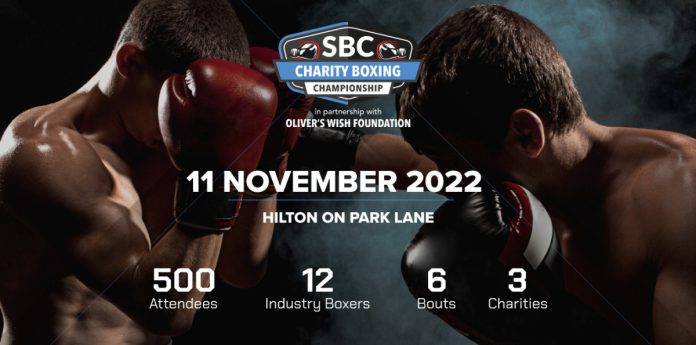 Kejuaraan Tinju Amal SBC pertama, dalam kemitraan dengan Oliver's Wish Foundation, akan melihat beberapa nama terbesar di industri game akan bersaing di atas ring untuk mengumpulkan ribuan pound untuk tujuan yang baik.
Kejuaraan ini awalnya dijadwalkan untuk April 2020 tetapi tidak dapat berlangsung karena pandemi coronavirus. Dua tahun kemudian, SBC dan Oliver's Wish Foundation sekali lagi mengundang industri untuk menikmati malam tinju kerah putih dan menunjukkan dukungan mereka untuk inisiatif dengan tujuan baik.
Acara dasi hitam akan dipandu oleh mantan bintang rugby Inggris dan Lions Inggris dan tokoh TV James Haskell bersama dengan pembawa acara Sky F1 Natalie Pinkham, dan berlangsung pada 11 November 2022, di Grand Ballroom Hilton di Park Lane, London. Lebih dari 500 tamu akan disuguhi resepsi sampanye dan makan malam gala, tetapi atraksi malam yang paling ditunggu-tunggu adalah aksi di ring tinju.
Dua belas wajah yang dikenal akan berubah dari eksekutif industri game menjadi raja cincin ketika mereka mengikat sarung tangan dan bertukar pukulan untuk mengumpulkan dana yang sangat dibutuhkan untuk tiga badan amal yang didukung oleh Oliver's Wish Foundation.
Kartu ini menampilkan enam pertandingan tiga ronde yang seimbang:
Leon Thomas (Managing Director and Group Strategy, Entain) v Nick Wright (SVP Business Development, Interactive di Bally's Corporation)Mark Woollard (Managing Director, Banijay Brands) v Rokas Daugirdas (Compliance Manager, BetGames)Boris Chaikin (igaming Executive) v Luke Sepupu (Direktur, Mitra Koneksi)Michael Brady (CEO, Eyas Gaming) v Tony Plaskow (Direktur Komersial, Teknologi Sapi Hitam)Brandon Walker (Direktur Pengembangan Bisnis, Amelco) v Jan Urbanec (CEO, Endorphina) Daniel Beard (Mitra, Partis Solutions ) v Vasilije Lekovic (VP Gaming, Trustly)
Oliver's Wish Foundation didirikan untuk mengenang Oliver Dowling, yang meninggal secara tragis dalam tidurnya pada musim gugur tahun 2015. Yayasan ini menggalang dana untuk berbagai kegiatan amal yang berfokus pada dukungan anak-anak dan remaja.
Uang yang dikumpulkan oleh industri game di SBC Charity Boxing Championship akan didistribusikan ke SUDC UK, The Cystic Fibrosis Trust, dan Chestnut Tree House.
Beard, salah satu petinju dan kekuatan pendorong di belakang Kejuaraan, mengatakan: "Oliver's Wish Foundation terus menjadi tujuan yang sangat dekat dengan hati saya, dan saya ingin melakukan sesuatu yang istimewa dan inovatif untuk membantunya mengumpulkan dana.
"Upaya awal kami untuk menyelenggarakan acara ini adalah untuk April 2020, tetapi sayangnya, COVID-19 menghalangi, jadi kami sangat senang dapat meluncurkan kembali acara tinju kerah putih industri yang pertama. Sebagian besar petinju masih siap untuk tantangan ini, dan kami bersemangat untuk menampilkan malam pertarungan yang menggembirakan.
"Kemurahan hati industri sangat mengejutkan sebelumnya, dengan orang-orang dan perusahaan menyumbangkan waktu mereka untuk membantu mengatur acara, jadi kami berharap dukungan berkelanjutan kali ini dengan mensponsori Kejuaraan atau membeli tiket. Di antara mereka, mereka akan mengumpulkan jumlah yang fantastis untuk tiga badan amal yang sangat penting."
Rasmus Sojmark, CEO dan Pendiri SBC, menambahkan: "Kejuaraan ini dimaksudkan untuk menjadi salah satu acara paling berkesan di tahun 2020, tetapi sayangnya rencana kami hancur oleh pandemi. Namun, kami tetap fokus untuk mewujudkan Kejuaraan ini dan akhirnya menghadirkannya kepada Anda November ini.
"Oliver's Wish Foundation melakukan pekerjaan yang mengagumkan dalam meningkatkan kesadaran dan uang untuk amal, dan SBC merasa terhormat untuk mendukung pekerjaan organisasi. Kami benar-benar bersyukur dan tersentuh oleh kemurahan hati yang ditunjukkan oleh industri game."
Perusahaan yang mendukung Kejuaraan Tinju Amal SBC termasuk Akur Capital, Amelco, Argyll Entertainment, Black Cow Technology, Bally's Corporation, Banijay Brands, BetGames, Blueprint Gaming, Endorphina, Entain, Eyas Gaming, Eyecon, IGT, Koneksi, Microgaming, mkodo, Oakvale Capital , Parimatch, Partis Solutions, Pronet Gaming, Push Gaming, Random Color Animal, Roxor Gaming, Soft2Bet, Square in the Air, Trustly, White Hat Gaming, dan Yggdrasil.
Meja dan tiket individu untuk Kejuaraan Tinju Amal SBC sedang dijual, tetapi sekaranglah waktunya untuk memesan, karena mereka cepat habis.